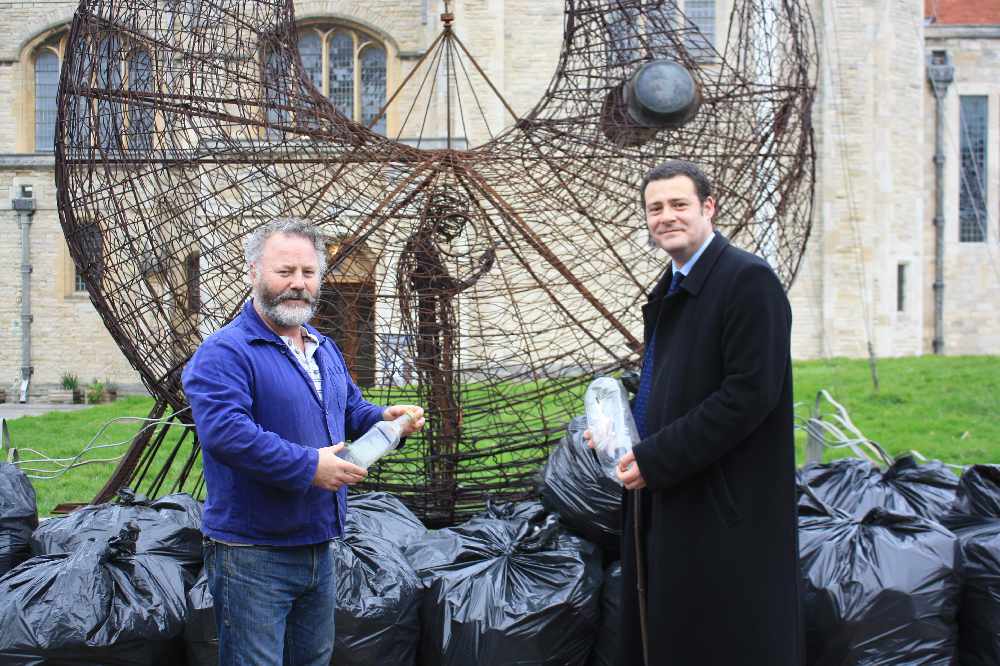 Crowdfunded art sculpture, highlighting Portsmouth's commitment to tackle the plastic crisis, is emptied to start a new life near Guildhall Square.
Local artist Pete Codling partnered with Portsmouth City Council in June 2019 to secure support to complete the design and production of a giant fish to raise awareness of the impact of plastic on the environment. Since June, members of the public have been filling up the fish with mostly plastic bottles. The full fish was emptied by the artist and a team of volunteers at its current site, the Anglican Cathedral in Old Portsmouth, on Saturday 25 January 2020. Its new site will be in the city centre.
The contents of the fish were sorted and counted by the team of volunteers; more than 6,000 plastic bottles and other items have been collected since June 2019. Once the fish was half empty, the artist climbed inside the fish through a hatch at the back, to remove the remaining contents.
As the fish was emptied, it revealed a life-sized man on a mobile phone as part of the sculpture, to link not only to fairy tale stories such as Jonah and the Whale and Pinocchio, but more importantly, to make a general statement on humankind burying themselves in plastic rubbish and being unaware of their environment and impact whilst staring at a phone.
The council's partner Colas, responsible for collecting public rubbish across the city, will compact the items into a big cube and to be sent to a recycling plant.
Cllr Pitt, Deputy Leader has said: "This project has been very close to my heart. As a waterfront city, Portsmouth is dedicated to doing its part to stop plastic ending up in the sea. The amount of bottles collected is a reminder of the plastic that could have ended up in the sea. With our efforts on cleaner air in the city and increasing food waste recycling, the community project that is the Treadgold Fish is a reminder of Portsmouth's commitment to the environment. This project sends an important message using high quality art from a local artist, and is an asset to our city."
Cllr Ashmore, Cabinet Member for Environment & Climate Change, said: "This project has diverted a significant number of bottles from normal waste bins. Portsmouth is a city whose residents are taking big strides to reduce plastic waste and increase efforts on recycling. This sculpture is a visually beautiful reminder that we all must do our part."
The Treadgold Fish, so called because of its birth place at Treadgold Heritage Museum, has moved across various council sites since June 2019, including Gunwharf Quays, Hotwalls Studios in Old Portsmouth, Southsea seafront, Victorious Festival, Southsea Common, before the Anglican Cathedral in Old Portsmouth.
The fish sculpture is 4m wide by 4m high and the design, inspired by Portsmouth's star and crescent emblem, is unique to the city. As part of a community project, it was made at Treadgold Heritage Museum in Portsea, in the heart of Portsmouth, using scrap metal.
The artist's progress from design to installation at sites throughout Portsmouth can be seen on his Instagram page - PeteCodling, using hashtag #treadgoldfish.
The project builds on the successes of other recycling efforts introduced in Portsmouth, including the food waste trial which has diverted more than 265 tonnes of waste, more recycling banks in the city and the introduction of wheelie bins which means the city is now recycling more than 700 tonnes a month.
It's time to take action
Portsmouth City Council is investing in their climate change response, both by providing resource and supporting significant financial investment into schemes that will reduce carbon emissions and make the city a cleaner, greener and safer place to live.
Anyone interested in receiving news on the council's plans to tackle climate change can sign up to receive email updates by going to portsmouth.gov.uk/climateaction