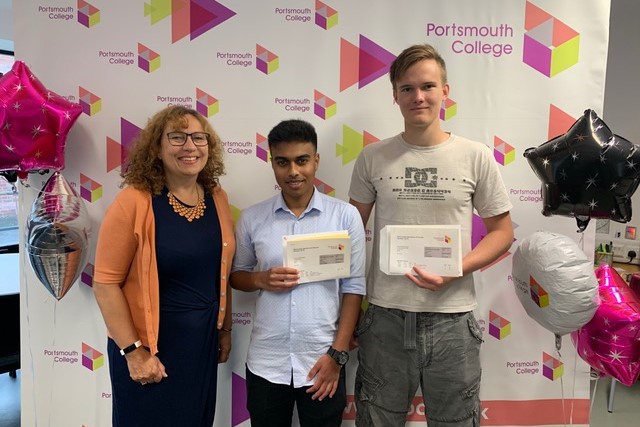 Students across Portsmouth are celebrating excellent A level results today, with many going on to their first choice of university.
Portsmouth City Council's Cabinet Member for Education, Cllr Suzy Horton said: "Congratulations to all of Portsmouth's A level students - I know how committed they've been to their revision and they should be very proud of their results. I've spoken to many of them today and it's been great to find out their plans for the future. I can see that all their hard work through primary and secondary school - as well as college - has really paid off!"
At Portsmouth College, Abraham Kattumattathil and James Baxter, two former pupils of St Edmund's school in Portsmouth, were celebrating together as they both achieved an A* and two As in their chosen subjects.
James studied Digital Film, Graphics and Photography and wants to study Digital Film and Illustration at university following a gap year, during which he plans to travel.
Abraham, who took A levels in Maths, Chemistry and Physics said: "I'm really happy with these results! I can now look forward to accepting a place at University College London to study for an Astrophysics degree."
97% of students at Portsmouth College passed their qualifications and 49% achieved the highest grades of A*-B at A Level and Distinction*/Distinction on Level 3 Vocational Programmes - up 4% on last year.
Principal of Portsmouth College, Simon Barrable said: "I am extremely proud of all our Portsmouth College students for the excellent set of results they have achieved today. On behalf of myself and the entire governing body I offer them all our sincere congratulations and best wishes for the bright futures which undoubtedly lie ahead of them".
Meanwhile, UTC Portsmouth, the new specialist Science, Technology, Engineering and Maths (STEM) College, has published its first A level and Diploma results since opening in September 2017, producing a 100% pass rate in STEM subjects including Maths, Further Maths, Physics, Chemistry and Geography.
Ciaran O'Dowda, Principal of UTC Portsmouth said: "The majority of our students have opted to go on to university and many already have offers of higher apprenticeships at a number of local employers, such as Airbus, BAE Systems, DSTL and The Royal Navy. This is a very good day for the future of STEM education in the Solent region and an indication of how UTC Portsmouth can contribute to helping students secure exciting STEM related destinations."