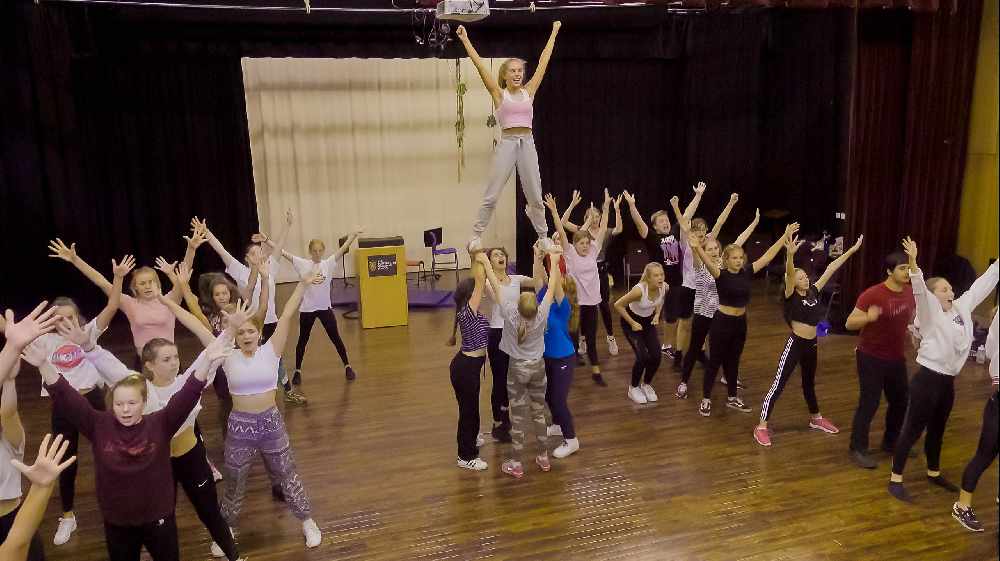 Students rehearsing the show
Next week The Portsmouth Grammar School have a cast and crew of pupils taking over The Kings Theatre for the Senior School Musical production of 'Bring It On'.
The show has music and lyrics by the multi-award winning Lin-Manuel Miranda, creator of 'Hamilton'. Following a host of colourful characters through the high stakes, competitive worlds of high school and cheerleading, Bring It On blends comedy, a terrific score and social comment to create an experience both entertaining and moving. PGS pupils will be showcasing choreography blending cheerleading and street dance in what promises to be a hilarious and exhilarating evening.

"I wanted to do a show with amazing music, creative opportunities and most importantly, a story the pupils could get excited about," says Jamie-Ann Templeman, Director-in-Residence at The Portsmouth Grammar School. "I am a big admirer of Lin-Manuel Miranda, he was writing 'Hamilton' around the same time as 'Bring It On' and there are clear similarities in the music. It's been so exciting to work on it with the pupils."

'Bring It On' is an infectious, engaging and modern show, with a cast up made of two opposing teams allowing a wide number and range of pupils to take part. With songs about doing your own thing, stepping out of your comfort zone and working hard towards a shared goal, the show is particularly inspiring for young people and has helped many of the cast and crew grow into themselves.

"I've been really impressed by the passion our pupils have shown for this show," said James Robinson, Director of Drama at The Portsmouth Grammar School. "The Senior School Musical each year enables us to engage with a broad range of pupils – some who have never been on a stage before and others finding that their skill is in lighting, costume or set design. It is a real opportunity for them to grow in confidence and maturity, and performing at The Kings Theatre is incredibly special for all of us."

'Bring It On' runs at The Kings Theatre from Thursday 28th November – Saturday 30th November, tickets are available from the Box Office at The Kings.

There is the opportunity to watch some of the dress rehearsal and meet the cast on Wednesday 27th November, if you would like to do this please contact me. There is also a video of the pupils in rehearsal: https://youtu.be/m7M2G4JcELA that can be used online.