Who In Blue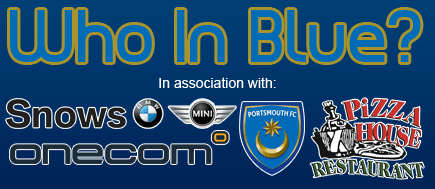 This is your chance to win some amazing prizes, all on 93.7 Express FM.
To win an incredible prize package, all you have to do is simply tell us which three Pompey players have scored in the following audio clip:
Just email the three Blues goalscorers and your contact details to competitions@expressfm.com, or fill in the form below.
You have until Monday May the 4th to enter and you can enter as many times as you want. Entrants must be 18 or over.
What can you win?
We start with two executive box seats at the 02 Arena to see the amazing Fleetwood Mac on the 27th of June all thanks to our friends Snows BMW.
Visit snowsgroup.co.uk/bmw for the latest offers across the full BMW range.
Next up a brand new Nokia Lumia 630 will be yours thanks to OneCom, Official Telecommunications Partner to Portsmouth Football Club, and Milton End Sponsor - find out more at www.onecom.co.uk
Thanks to the lovely Pizza House Restaurant in Hilsea celebrating over 35 years of incredible Italian food, you will enjoy a complementary meal for two.
That's not all!
On top of all that you will win a chance to join us live on our Pompey Live matchday coverage for a commentary next season.
Fancy an exclusive dedicated tour of Fratton Park for you and two friends? Well, who's better to be your tour guide than Pompey legend, 800 games for the Portsmouth football club, Mr Alan Knight.
And finally we will also arrange a chance for you to visit Pompey's training complex and meet the PFC players one afternoon.
Good luck!
This form could not be found