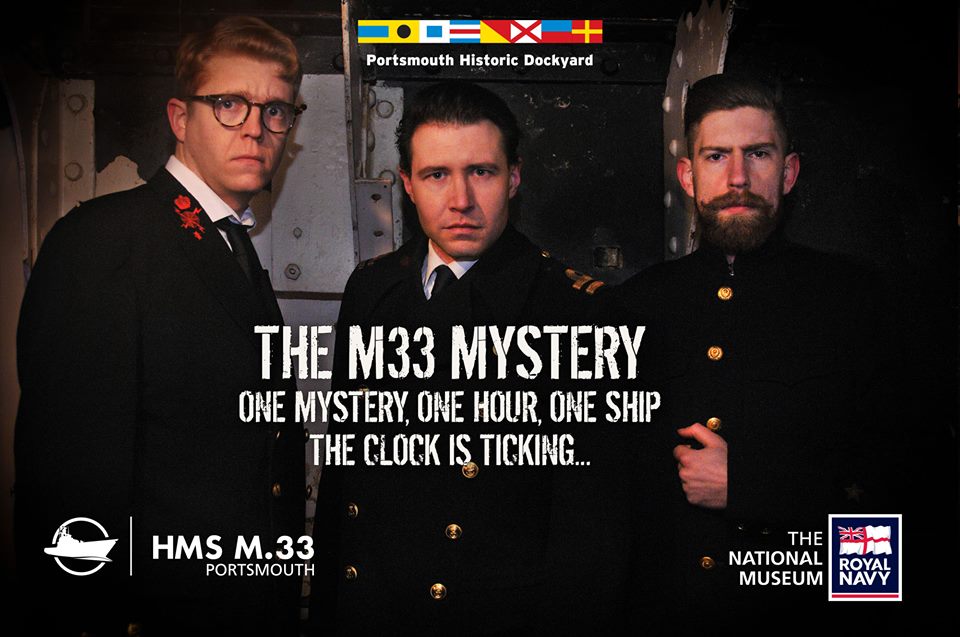 As you step aboard the historic HMS M.33, the only remaining ship from the WW1 Gallipoli Campaign, you are greeted by characters from the Ship's past.
As you get to know your hosts a mystery unfolds, a mystery that must be solved very quickly! You will need to be the Captain's detectives; explore the ship, interview the crew and as you delve deeper into their shadowed pasts you will begin to piece together their motives and opportunities. But it is a race against time, as you will have one hour before the military police turn up to apprehend the culprit. Can you assist the Captain or will you be baffled by the lies and accusations of the suspects?
But you must act quickly because only the right question will get the answers you need; and the suspects will have a big clue to give only once. Will you be the first to find it?
Finally, as you make your way back to the Engine Room of the ship, you have a few more minutes to finalise your conclusions over much needed refreshments. And as your team debates the twists and turns you will get to accuse your suspect - but did you deduce correctly? Finally the Captain will reveal all…
The events starts at 7:30pm on the 2nd June and we've got a pair of tickets to give away to the event. If you want to win, enter your details below:
This competition closes on Thursday 1st June 2017 at 10:00am. The winner must be contactable in order to redeem their prize, or another winner will be chosen. Entries are restricted to one per person. You may only enter this competition if you are a resident of Portsmouth, living within selected PO postcodes. Prize cannot be exchanged for any other alternatives.